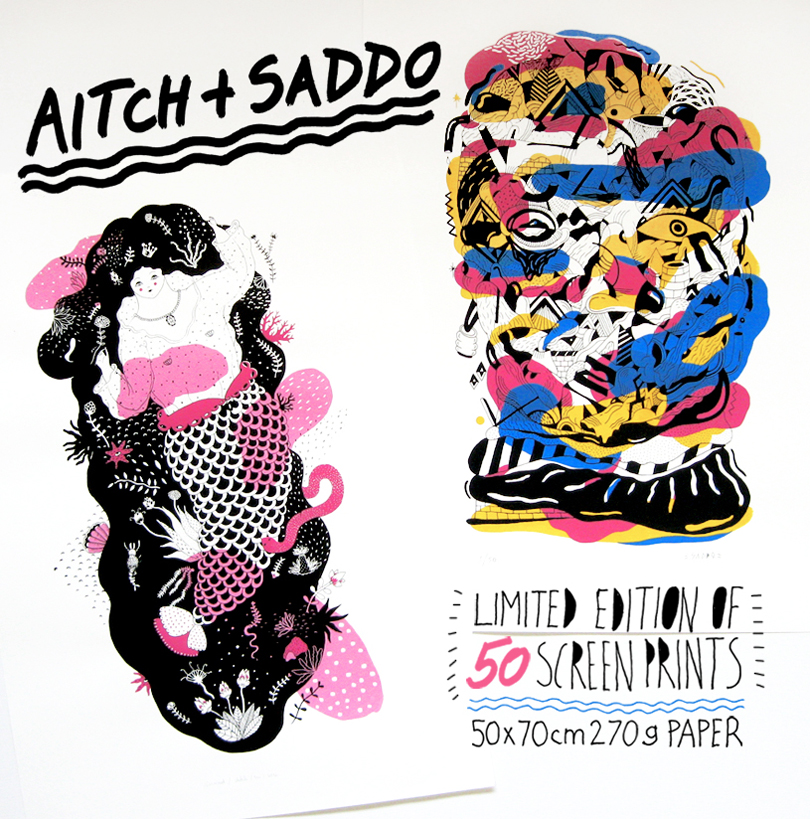 Saddo & Aitch are having a fundraising print sale! After being invited to produce two shows in Canada next summer, the duo have produced two runs of limited edition prints to fund their journey from Romania.
After being unable to enlist the help of government agencies, the pair have decided to raise the money themselves by producing and selling these two artworks. The pieces have been screen printed in a limited edition of 50 pieces, all signed by the artists.
Here are some details for each print:
1. Aitch - Mermaid / 50x70cm ( aprox. 20x27 inches) on 270g paper / 3 colors
2. Saddo - Untitled / 50x70cm ( aprox. 20x27 inches) on 270g paper / 4 colors
The price for each of the prints is 40€ ( $50 ) + shipping costs: 20€ for Europe, and 30€ for the rest of the world.
Saddo & Aitch are really excited about being able to have these two shows in Canada, sharing their art, meeting new people, collaborating with local artists for murals, and will be really grateful if you could help us make it happen. If you're interested in any of the prints, drop them a line and they will sort out details regarding shipping and payment methods.
See below for more images and details of these two beautiful artworks!