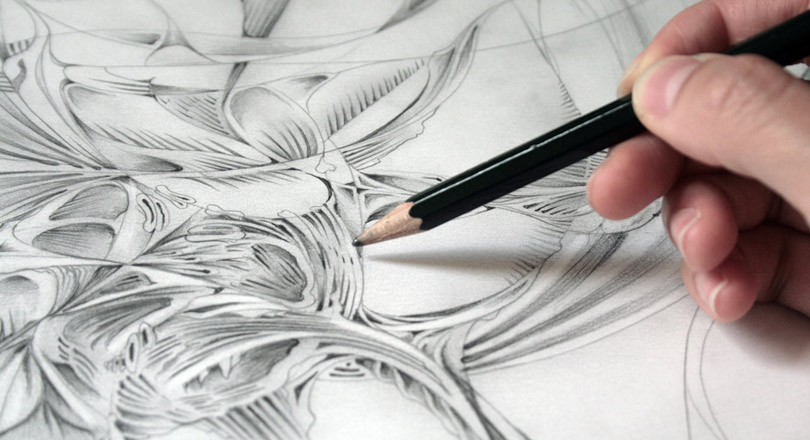 Sougwen Chung

New York — United States

@sougwen

sougwen.com
Sougwen is a recent addition to the Depthcore family. I first came across her beautiful organic work on Twitter, and was pretty stoked to get her involved with the collective. Since moving to New York, I've organised a bunch of meetups with the local DC kids, and Sougwen has been a regular participant, joining in our silly banter and downing bottles of Malbec with the best of us.
Sougwen's incredibly fluid style of drawing brings to mind an elegant and traditional modernisation on Depthcore's abstract beginnings. Watching her wonderful livedrawing sessions gives the impression that creating her style of work is far simpler than it is.
Her seemingly effortless creative process belies the complex thought process and tremendous skill behind her work. Renowned for her rather mysterious interview style (my prep research got me absolutely nowhere), I try to fare better in this article to shed some light on this talented Brooklyn based artist.

Justin Maller: You've done a good job of flying under the radar with Depthcore - I think you're just as big a mystery to many of our members as you are to our public. Pull the cloak of secrecy aside, let us see what lies behind your shadows of intrigue!
Sougwen Chung: More intrigue?
Justin Maller: Of course. I've seen you write that your work is "informed by investigations into drawing processes." Is this a fancy way of saying that you like to just draw and not worry about the how's or why's?
Sougwen Chung: Hah. I think it might be a fancy way to describe just the opposite. The "how" of the composition is the seed — completely paramount. Formally, my drawing process is one that examines an element of drawing (value, line, form, repetition, texture…) as a point of focused inception to "generate" the rest of the image. As the image grows it can deviate off that singularly focused path, but usually the process begins with one or two principles I'm trying to examine as a foundation.
Abstraction, as opposed to observational rendering, is fairly captivating to me in that sense as it offers an infinitely vast arena for me to explore these ideas.
Justin Maller: A lot of your work seems to stem from your affinity with music; this is common with a lot of artists, but it seems like you select your sonic inspirations on a more intimate level.
Sougwen Chung: I have a background in music, and grew up in music schools from childhood… as I further develop my work I'm becoming more aware of how my process as a visual artist is informed by early encounters with sound and instrumentation as a vehicle for expression.
Justin Maller: Your submission for OBSOLETE was one of my very favourites - I think it's going to end up hung in our house somewhere. Was there anything in particular in terms of concept or execution you were hoping to achieve with this piece?
Sougwen Chung: Thank you! "The Reaper" is a bit of an anomaly for me, actually. Its palette, for instance, is atypically colorful for my style….Vibrant, elated almost — like beckoning spring in Brooklyn after a desolate winter. (Sound familiar?) The title is an inversion of the adage "you reap what you sow" — it's meant to be more auspicious than cautionary or foreboding. There's a optimism and lightheartedness to this piece which is typically absent from my other work.
Justin Maller: I think you are one of the few people who have had more experience interacting with Depthcore on a personal level than on the internet - I reckon we've spent more time hanging out together here in NYC than you have in the Artist Panel. What are your impressions of the collective and her artists so far?
Sougwen Chung: I love the energy of the Depthcore meetups in NY, there's a refreshing warmth and humility to the people I've met. Like I've said, I seldom spend time with illustrators so I really enjoy meeting up and sharing inspiration, randomness, and drinking a lot of red wine
Justin Maller: Thanks for the chat! Parting words?
Sougwen Chung: Yes. This is my favorite gif on the internet right now.
YOU'RE WELCOME.