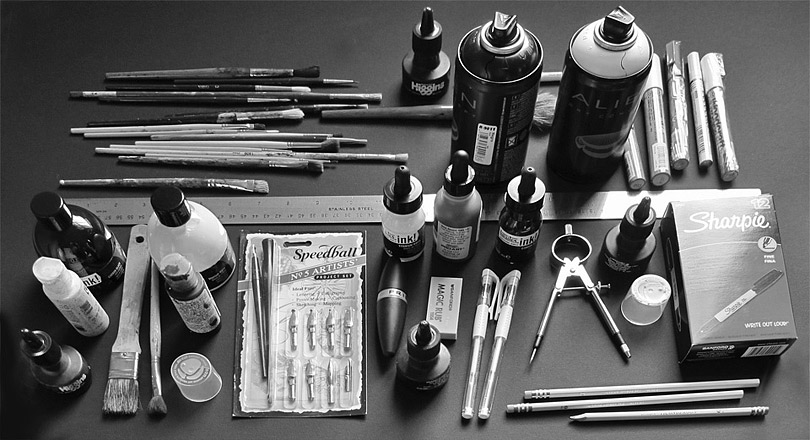 Matt W. Moore

Portland, ME — United States

@mwm_graphics

mwmgraphics.com
A very recent addition to The Depthcore Collective, Matt W. Moore scarcely needs an introduction from me. His trademark "vectorfunk" style has brought him to the forefront of the design worlds' collective conscious, evinced by his innovative and splashy collaborations with brands including Ray-Ban, Gravis, Wired and countless more. I managed to catch up with Matt, and discuss the development of his debut piece for "OBSOLETE".
Justin Maller: Your submission for Obsolete was amazing mate! It seemed like a real departure for you; how did you approach this conceptually? What thoughts did the "OBSOLETE" theme bring up for you?
Matthew Moore: Thanks Justin. Glad you like it. It's actually not a departure at all. I have been painting black and white watercolor artworks for many years, and have painted many, many mandalas over the years as well. I see this series as more of a continuation of my previous works, just more detailed and refined. When you asked for artwork that exemplified "Obsolete" I immediately began thinking about the prevalence of digital tools in the contemporary visual landscape. It seems the analog art/design crafts of the past are less frequently celebrated these days, so I thought it would be a great fit for this Depthcore Chapter to include something entirely rendered by hand.

Justin Maller: Run us through the process of creating this work; I remember you telling me you got watercolours involved?
Matthew Moore: The piece is painted on 22" x 22" black watercolor paper. It is part of a series of 5 paintings called 'Micro & Macro Mandalas'. In the beginning I got the paper drenched with water and started with white ink washes and sloppy foundation layers.
Then I let it dry and got in there with a more exact illustration style, building off of the form from the first layer. I then alternated between these two techniques as the piece evolved. In the end it has a nice clean look with some fun unexpected moments and wet paint glitches.
Justin Maller: I thoroughly enjoyed watching you paint your mural for OFFF in Barcelona - do you think you would ever attempt a large scale painting in this style?
Matthew Moore: Thanks. Yeah. I have painted tons of murals in this style over the years. Some favorites are this one from the Convergence Exhibition with Kate Cleaves where we painted directly on the gallery window, and this collaboration with my homie Lerk on the Shawnee Peak Snowboard Terrain Park where we laced it up with lots of soft organic layers after building a foundation of clean geometry and mandalas. I have plans to do some wild largescale stuff this Summer. Instead of typical art supplies I will use XXL mark making tools like mops, windshield wipers, and water balloons. It will be a lot of fun.
Justin Maller: Thanks heaps for doing this man, much appreciated!
Matthew Moore: Thank you Justin. Honored to be part of the Depthcore Set. Great to meet you all in Spain!