Gavin McGinn
Interview
Chapter IV: Nemesis

Posted by
Justin Maller
\

@justinmaller

justinmaller.com
— on November 24, 2002

Toronto
/ Canada
I'm talking with Gavin McGinn, aka verion (Gavin McGinn), depthCORE's 4th featured artist. How are ya Gav?
Doing good, just woke up, and right now besides the obviousm, i am contemplating whether or not to go to Denny's for breakfast with my family
and you?
eh, im not bad. its one in the morning, i figure i'll interview you then work on some tracks/pics for dC :)
anyway, are you REALLY 14?
yep, started high school this year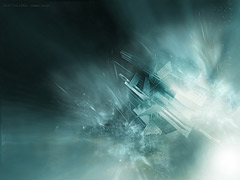 i've got a realy bad student ID card i could scan in for any non-believers
how and when did you make your start in abstract?
well, it all started when i was into music creation on the computer, i needed something to play it on, used winamp, then i looked through different skins and wanted to make my own
first i used Adobe Photodeluxe, and then wanted Photoshop, which a friend had...mad balln props to him
i bet :)
then it turns out that i have yet to make 1 skin
how ironic! skinning has never been my bag either. what are the tools of your trade?
well, i originally started with photoshop, then i recieved 3ds max, and only now i'm i starting to use that for whats its for
self taught?
mostly, i started out using some tutorials, but i was hoping they'd teach my all the abstract i saw on gmunk, weworkforthem and such, so they were quickly abandoned
i think i learned to make a tentacle from tutorials :)
still haven't read that one myself :).... what do you forsee in the future for depthCORE?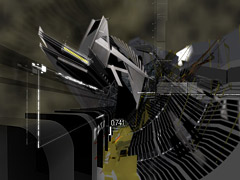 um.. increasing goodness of our current statusness...i also forsee new pieces and new skins
thats a poor attempt dude... lol
anyways, where do you see YOUR art going?
currently, i'm experimenting in motion graphics, and spending more time in my 3d models, and i'm in the process of making some commercial and personal sites
who would you like to spend a day as?
probablya proffesional guitarist
you're after the groupies? :)
more the day of coming up with songs from his/her head and writing them down, then they're mine :)
dishonest, but this isn't gonna happen
lol.... dodgy bastard... i'd at least be in it for groupies... anyway who is your ideal collab partner?
probably some of these guys from these computer animated movies and special effects
i watch my "Toy Story" behind the scenes
but i have had the pleasure of being put on hold for a collab with some pretty awesome artists from the digital art world
such as
me and cubadust have a collab to finish
dstrukt if he still remembers :)
fair enough. whats your favourite piece you've seen released with depthCORE so far? (not neccessarily your own)?
probably weirdone's piece from the first release, or some of the skins by siron
good call.
well gav, thanks a lot for chatting with us, its been a pleasure
thank you too
any last words?
about anything?
go for it
i've been wondering if william shatner is double jointed, e-mail your thoughts somewhere
lol...thanks gav, catcha!
l8tr

Back to Top \ Back to Interview List \ View Chapter IV: Nemesis Submissions \ Submissions by Gavin McGinn