Matei Apostolescu
Interview
Chapter XXXIV: Idio

Posted by
Justin Maller
\

@justinmaller

justinmaller.com
— on July 25, 2008

Bucharest
/ United States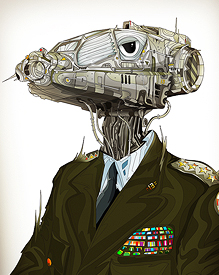 Hi Matei, congratulations on being dC's featured artist for IDIO. Give us a snapshot of your artistic journey; how did you get started? What stops did you have along the way?
Thanks a lot Justin and peace to everyone .I've started out as many illustrators today start, migrating from home made graffiti to web design and finally fell in love with illustration. I'm self taught and have been drawing since I was a kid; however I took a break because my parents decided at some point that I should study classical music, so for about 5 years I was preoccupied wit playing French horn (which by the way was an awesome experience!).
It all started to take shape seriously back in high school with the discovery of self-promotion on the net; web forums played also a vital role, because back then in Romania there were no people involved in digital art, so going online was the only way to exchange ideas and see how people would respond to what I do.
Being the only active Romanian member, give us a little insight into the creative scene that surrounds you; I know that the 115 Gallery is a project that you have been heavily involved in, what impressions has producing the exhibitions left on you?
Oh man, I'm actually so upset that there are so few Romanian artists on the scene and this is probably one of the main reasons for the existence of the 115 project. With the 115 Gallery we have tried (and so far succeeded) in raising awareness, especially among young people here, towards digital art and especially to the fact that digital art is no longer restricted to the computer Screen. With modern printing technology it can become a unique art object, imagery of a kind never seen before that people can hang on their walls and enjoy.
I think that in 2 years time the effects of the 115 gallery on the Romanian scene will become visible, I have a feeling that there are kids in Bucharest who visited the gallery, saw the works and said 'Damn, this is what I wanna do too...'
Perhaps the greatest impression was when we initiated the urban exhibition for Aya Kato; we had an amazing response, everyone was so thrilled that, for two months, the huge commercials hanging from the sinister communist blocks in Obor Plaza (one of the busiest points in our town) were replaced with Aya's beautiful works.
How do you spend your days as a freelance artist in Bucharest? Run us through a typical Summer work day...
You won't believe how chilly it actually is. There aren't many freelance opportunities at the moment in Bucharest, so most of the stuff I deal with is from the outside so I guess it s pretty similar to what other freelancers are doing.
What has been the most enjoyable freelance project you have worked on to date?
Well I guess all of them; I was contracted mostly for my freestyle skills and there were no complications in the creative process. I try to be selective with my clients and I don't get involved in projects I don't like or that I feel I can't fully contribute in. I try to take the FREE in freelance very seriously!
What are your hobbies and passions in life aside from art and design? Do they find their way into your creative?
My everyday life consists of lots of, reading, listening to music and watching movies and documentaries, and I think it really shows in my work. I'm a huge fan of science fiction and I have always been very concerned with technology and the latest advances, ever since I was a kid. It's actually very hard to face the huge amount of inspiration the web, books and movies provide. Computer games are another huge part of my life and I have some plans regarding them (picture a game with the graphics from 'City 13.01')
How do you approach your work? What's standard in the Apostelescu process?
I try to maintain some sort of randomness in the whole process, as I said I'm sometimes overwhelmed with the amount of inspiration the world provides, so I try to always have some sort of open space in my head for pure inspiration.
It could sound strange but a lot of the stuff I create owns it's looks to some sort of random mistake I did in the creative process. As for the standard, I have only one: to keep pushing things forward. This involves basically investing more work and more attention to detail into my art - the next piece has to always be better than the last oneâ'¦ way better...
I know you use a variety of mediums in your illustrations; what is your current favorite and why?
I really don't know at the moment, the way I see it they all work together, but only on one condition: having some sort of skill with each, because after that lots of magic stuff starts to happens by itself simply by translating your experience from a medium to another.
Although your work is quite varied, you have a very strong and identifiable personal aesthetic. Is it based on an amalgamation of influential designers, or is it a style you stumbled across naturally? How would you describe it?
It's a mixture and I think I will always keep it this way. Looking at what other artists are doing is one of the best ways to gather skill, observing their works and techniques, then trying to melt all that into some sort of personal understanding of what your art is. It becomes a never ending quest and is probably one of the main engines of my creative process. I see style as something in a continuous evolution; as one of our dC members (Karan Singh) succinctly put it, 'There's no style like freestyle'.
You've been in dC a long time now; what has being a part of the collective meant to you? What was your favorite pack? Favorite artwork ever submitted? Who's skills would you most like to steal?
Looking back I understand how important was to be part of this collective because in Depthcore I could find a quality standard that evolved from pack to pack, and this helped me immensely. Also, the fact that I could exchange ideas and work with you guys really helped me out through some really dark days.
My favorite pack was Freestyle II, and speaking of this pack your collab with Christian Jehle ' 'Saboteur' decorated my desktop for a long time, but my all time fav from dC is 'Icarus' by Nik Ainley - I was sooo amazed by that piece :) I am blown by the skill of many artists here, to name just a few: Nik Ainley, Peter Jaworowsky, Jerico Santander.
What are your long term plans? Where do you hope to be in five years?
One thing is certain, that I will be a contributing dC member : ).As for the next five years I really don't know.. I have a feeling the best is yet to come, on all levels. Much love!

Back to Top \ Back to Interview List \ View Chapter XXXIV: Idio Submissions \ Submissions by Matei Apostolescu