Karan Singh
Interview
Chapter XLI: Mirror

Posted by
Justin Maller
\

@justinmaller

justinmaller.com
— on January 14, 2011

New York
/ United States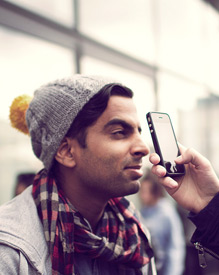 Congratulations on being the featured artist for this Chapter. Tell us a little about your background as an illustrator, and where being a part of the collective fits in to your journey to date?
Thanks Justin, I'm a self taught illustrator and I've been creating under 'Wake Up Mr. Singh' for just over 5 years. I'm specifically passionate about working in Illustrator with a focus on vector work. Depthcore's been a constant source of inspiration; I've looked up to the collective for a long time. I feel like the potential contained within the collective is immense and to be able to communicate and interact with like minded people is priceless.
Run us through the mechanics of your creative process; what steps go in to the creation of each piece?
Putting ideas down on paper is an invaluable stage in my creative process. It's the first and most important stage as it allows for roughly fleshing out ideas. It doesn't even have to be a good or accurate drawing but it's more about way-finding. After I'm satisfied with the drawing, I collect the resources that I need whether they be reference pieces, color schemes or stock images. This ground work at the beginning is essential as the creation process which follows has a better flow about it. There's less second guessing and dilemmas when you've got a concept or idea locked down.
How has your style evolved over the years? Are there any specific influences or artistic touchstones that helped to develop your signature aesthetic?
Honestly, I'd like to think that I don't have a signature aesthetic. I really enjoy constantly trying new techniques and styles or incorporating aspects of peoples work I really like into my own approach. When I first started people like 123Klan were big influences upon the aesthetic of my work. As I became more interested in the realm of art, I developed an appreciation of the different mediums. If anything has evolved, it's been my approach in creating new work. Work nowadays is much more premeditated and planned with a concept as mentioned earlier with regards to my creative process.
Nowadays, I do find myself heavily influenced by themes of futurism. I'm a big fan of Stanley Qubrick's '2001: A Space Odyssey', Ridley Scott's 'Blade Runner' and Aldous Huxley's 'Brave New World'.
Do you find your influences of environment manifesting themselves in your work? Being one of our few Australian members, do you find the natural beauty we are surrounded by infiltrating your creative headspace?
I use nature and the outdoors in general as an escape from the world of the internet and computers so it's probably more therapeutic than inspirational. Nature's the yin to the yang of the internet and possibly why I don't include much of it in my work; I like to keep them separate. If anything from Australia inspires me, it's the attitudes; the tongue in cheek sense of humour, the larrakinsim and people's positive and friendly dispositions.
Do you have any personal philosophy behind your work or it's approach? What are you trying to achieve with the pieces you make?
I love illustrating and the sense of freedom and release that comes with it whilst working is unparalleled. Personally it provides a certain respite from reality whereby what you create is entirely up to you. There's nothing profound about my work as I try to make the work relatively transparent; I'd love for people to understand it and appreciate it, especially because it's exhibited on the internet, a very temporary place.

I'd imagine that that respite was a very welcome distraction in the last year; do you want to share how art and our collective played a role in your life during the difficulties you have faced over the last twelve months?
The best thing to come out of going through chemotherapy was that I had a lot of free time on my hands. Prior to being diagnosed I used to work full time and had little free time or patience after work to pump out a personal piece. Last year was a fantastic year for my personal work and creativity; I thoroughly enjoyed just making work for me and submitting to Depthcore. It provided a much needed distraction as you say and was even a crutch to lean on in tough times. In the twelve months I was able to experiment with new things and also conclude that freelance illustration is what I want to do full time. Experiencing such an illness as cancer makes you much more determined in achieving your goals as the fragility of our existence becomes more apparent!
I also appreciate all the new friendships that came out of those twelve months, particularly with the members of Depthcore. The encouragement offered not just towards my illustration but during such a rough time was touching.
It seems like the collective became even more important to you during this time than it was before; where do you see the future of our group heading?
I think the misconception is that we're just an exclusive internet art group but in reality we're a tight knit bunch. We all see an immense potential in Depthcore to transcend the barriers of the internet and evolve into a bricks and mortar studio/agency. I predict great things for Depthcore in 2011; some exhibitions, publications and the presentation at OFFF. Looking at the next five years, there's a lot of work to be done to get it to where we want to be. The wheels are well and truly turning and I'm confident the future is bright.
There's a lot of work to be done to get it to where we want it to be.
Who within the collective do you especially admire? Who would you most want to work with if you had the chance?
I've been really lucky to meet Matei Apostolescu on deviantArt in 2006. He's since become a Depthcore member, a really good friend and also a bit of a mentor for me. He's a ridiculously talented, down to earth guy whose personality and work I admire. I'd love to work with the likes Niklas Lundberg, Mike Harrison, Max Spencer, Kervin Brisseaux, David Mascha and Rik Oostenbrook. I've always admired the talents of Nik Ainley, Emeric Trahand and yourself.
Stop, I'm blushing. Outside of Depthcore, what projects are you currently involved in? What is captivating your interest most intensely at the moment? Are there any plans for additional endeavours?
Last month I launched a personal project called Pig Bimpin (http://www.pigbimpin.com). It's a resource for articles and interviews about creatives. I created it because I really enjoy writing and wanted to improve my photography. I was also partially motivated by the lack of any such resource which caters to the field. Thus far it's been successful and I've received some great feedback! At the same time, it's quite a demanding project as all the content is generated by one person. I've always wanted to create a zine and am hoping that perhaps one day Pig Bimpin' could evolve into such a project.
Aside from Pig Bimpin', I'm teaching myself life drawing. It's something I've wanted to do as a kid and am finally becoming proactive about it.
So aside from these projects, what do you see in your personal future? What are you building towards? What goals do you hope to achieve along the way?
I've just committed to freelancing full time as an illustrator and a designer. It's something I've wanted to do since I first began creating 5 years ago. I feel like I'm living my dreams right now and am working overtime towards securing this position for life. As much as I love Australia, I'd love to do some postings in different countries for a couple of years. I'm an avid traveller and enjoy foreign cultures and learning new languages. Currently, my goal is to make it to Spain for OFFF not just for the conference but for the Depthcore meet up which will be taking place there simultaneously. It'd be great to meet all these talented kids who I've been speaking to over the internet for just over four years.
Yes, OFFF should certainly be a blast - looking forward to a massive turnout! Thanks for chatting with us Karan, and and congrautlations again on the feature!
Cheers Justin and the DC family!

Back to Top \ Back to Interview List \ View Chapter XLI: Mirror Submissions \ Submissions by Karan Singh