Alistair Uz
Interview
Chapter XIII: Infinity

Posted by
Jeff Andvik
\

www.jeffandvik.com
— on July 29, 2004

Ottawa
/ United States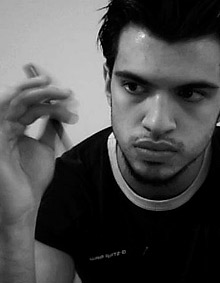 Who is Ali? Who is the person who lurks underneath the name skr33ch?
well my good friend, Ali, also known as alistair, is a 3rd year university student at McGill, Montreal, Canada, studying information systems. He is also 20 years old and known for his womenizing abilities all around the world (the last one is a lie) The other stuff pretty much ordinary: I smoke, I drink, I like a good party, but currently I am in an 8 month relationship which is kinda changing me.. let's hope for the best.
wow, 8 months. Longest I ever done was 2.5 months :P
damn.. that is short : P
I keep gettin bitches as gf's .. its no fun, all I want is a nice good girl who loves me for who I am :( ohh well
Who is your favourite artist? (both gfx and music, list both)
well now that I recently saw the digitalvision infinity catalogue, I must say that Jens karlsson, Mike young, and shinter really impress me with their art. Also, shadowness was very inspiring, ass-itch, verion.. (cant think of any but im sure there are more)
:)
music, well im not gonna list the pro's out there cuz they have it all
some pro's wouldnt hurt to list :P
so i'm gonna go with probably you, cuz ur pretty much the only "dj" I have a decent conversation with and ur music is FUCKING GREAT!
haha :D thank you
well pro's: Armin van Buuren, Ferry Corsten, Tiesto, Van dyk, Oeknfold sets, and sometimes more psy as in Infected mushroom, Astral projection etc..
ahh :) I think your a clone of me :P
I seldom listen to hard trance and stuff like that.. feel as if they are banging on my head with sledge hammers, that bass just kills me
You have been a part of depthCORE for a few packs now, what made you interested in being a part of dC?
well guess you know the answer to that, the high quality art that was being produced since the first pack.
We have all seen the stunning contribution you have done to the last packs, I have a feeling many people are wonder where you pull your ideas from, what inspires you and keeps you going?
hmmm.. well for those who remember "verion", he had one piece in depthcore's 6th pack i believe, I can't remember the name exactly but it was a very organic piece, I guess that really inspired me in doing all the "organic" abstract meshes you see me doing these days, oh and also deus/ass-itch inspired me with his magnificent lighting.. hmm otherwise I just go with what my mind tells me to do What keeps me going is strong will power i guess :P
definitely a good reason
Do you have any special type of music that inspires you when making your art?
well I usually listen to trance/techno/psy-trance when making my images.. but sometimes some good rock bands can also do the trick (that is rare) Usually I just put a state of trance episode and just go on from there
ASOT ROCKS
for sure!
What type of tools do you like using in your art, and have you ever thought about trying new wierd things within the relm of abstract 3d?
hmm well, most of you already know the tools I use.. cinema4d and photoshop for most of my art. But now I tried my skills on 2d line art, and maybe in the future i'll go for other stuff, always nice to try and expand on your skills..
Do you have any ideas of where you want to take your art? What your goal is, and what you want people to get from your art.
ah.. I knew this question was comin at me.. Well when I first started out, it was more of a hobby than anything professional, but now I really enjoy doing what I do.. to be honest I would love to have a career in digital design and multimedia, I guess I'll go for it if I ever have the time to study animation and such and can really expand on my skills.. otherwise I guess I'll just go with whatever I self taught myself.. What people want to get from my art.. well just try and feel the emotion I was feeling when I created that certain piece. I hope it does get out when people look at it..
dont worry, so far, each time I see a piece of you .. my knees melt, I hope that was what you were wanting ;)
haha well it's always nice to get a compliment from an inspiring talent like you
*bows and thanks you for the returned compliment*
Since you said art started out as a hobby, but now has evolved, What are your current hobbies?
ah nice question.. well now I can't really say I have a hobby anymore.. I'm going to the gym? and I eat a lot of food as well : P hmm guess I started hanging out more with my friends, going to clubs, all that stuff u know nothing out of the ordinary.. But no new shocking hobbies to state really.. I'm kind of a boring guy : P
boring is relative
yeah i guess : )
What do you see for your future time at depthCORE? Do you have some ideas of what you want to accomplish in the time you will spend with us? World domination?
Oh yeah world domination was on the list I believe.. but jokes aside.. Well I want to contribute the way I do as usual.. hope to be an inspiring artist to the new comers and well maybe even trade geniouses with others..
ahh, the words of a true artist!
It's nice to be in such a group because everyone has their own style, and trading skills can be a very good "plus" for both parties guess I got strayed away from the original question but what the hell..
its ok :) we found out somthing else interesting!
Why do YOU think depthCORE is so great? (We all know it is Great and perfect and all, but we all have different reasons for why)
hmmm well I mean it's pretty obvious in my opinion.. you look at other art groups (dont want to sound offensive or anything) but you can see the difference..
I definitely agree
other art groups dont really last long .. we have lasted for 2 years and the quality is pretty much "out there".. we dont rely on who has the most stats at deviantART or any other gfx community our judge "ekud" has a really good "eye" on spotting such talent as well.. I think he is one of the factors on why we are different as well..
onto a more humerous question
goodie : )
What anoys you most and makes you want to blow stuff up and makes you ANGRY in the forums?
oh boy..
lol
well people who don't take critics as they should take it and get all offensive thinkin they are the "best" and people who try and give US advice on how to act "mature" jesus christ depthCORE is an art group and not a place for chatting and for those people who have a problem with us in the forums.. you are welcome to leave anytime..
Have you ever gotten into "traditional art"? Like, do you use penciles and brushes etc in real life to do other styles of art, or are you pretty much focused on digital art?
hmmm well I was really into drawing when I was little (like 7-8 yrs old), I used to draw like mini muscular guys killing each other in a huge arena guess I had a traumatic childhood :P But currently.. I'm pretty much focused on digital art.
we all now know the true source of Ali's art, his insane fury and lust for traumatic killing, (cant you see it in his art?) :P jk
hahah
If you were conducting this interview with your self, what would you want everybody to know about you?
that I'm a helpful guy and don't be afraid to ask me anything.. and that people who just talk to me for my "tutorials" can piss off

Back to Top \ Back to Interview List \ View Chapter XIII: Infinity Submissions \ Submissions by Alistair Uz