Jonathan Foerster
Interview
Chapter XXXV: Noir

Posted by
Justin Maller
\

@justinmaller

justinmaller.com
— on September 28, 2008

Indianapolis, IN
/ United States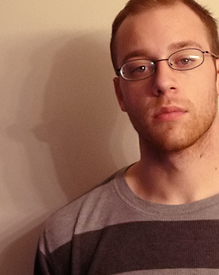 Hey Jon, congratulations on being selected as featured artist for NOIR. I bet if I had have told you a couple of months ago that we'd be having this discussion under these circumstances you'd be a bit surprised?
Thank you! No, a couple months ago I wouldn't have expected such, I haven't had the juices to pump out work over the past, what...4 years? A lot of this has to do with how I operate, as my origins are with traditional illustration and art. I've been an artist all my life; at the age of 2 I was holding a pencil properly mimicking my father at the drawing board. When I was younger, drawing and creating was my escape - it was how I dealt with feelings, happy or sad, and it's still like that to this day.
At the beginning of 2002 I really blossomed as an abstract artist, I had a job I only worked 4 hours a day at, rest of the time I was sitting at home, just creating and listening to music. It was also the start of my relationship with my now ex, April; the rush of feelings and emotions that came about with the beginning of our relationship was for me, really indescribable. I'm a very passionate person and the only way I could define these feelings was through art, to her, with her and myself.
So I had a burst of productivity, just knocking out these images, but at this same time, depression was eating me alive. It caused a lot of destruction, and it also created an addiction, another escape, into online gaming. I've been an online gamer since Quake 2 was released, and this hobby grew into a very competitive outlet for me; I got really into Quake 3 and competed in online and in LAN competitions. It was healthy in a way, as I could play from up to 30 minutes to a couple hours a day and then do whatever the rest.
I was competitive in Warcraft 3 after Quake 3's competitive steam started falling, which in turn introduced me to Lineage 2 and later World of Warcraft, 2 games that ate me alive. Depression, escapism and my competitive nature, combined to create this very destructive and inactive lifestyle; with the way MMO's are designed, you can really fall into them. Near the end of 2006 I think, I was playing World of Warcraft from 8 in the morning till 4 in the morning every day for months... that's really sick, and it disgusts me to no end that I was like that. I disregarded everyone I knew, including my fiancé. I can't even imagine what I really looked like to those around me. I wasn't doing anything for myself or for others at all, I was basically not even a living entity, I was existing in a virtual world. This destruction eventually ended as did my relationship; it was time to start anew, start fresh. I took a year to get myself together, and set various goals for myself.
Over the past 2 years I've nailed everyone single one of them, I'm a completely new person now, very healthy and I'm doing great. I've learned a lot over the past 6 years about myself, and people in general. I've learned to tap into my creative sources again over the past 2 years; slowly but surely I'm picking back up speed and letting all these images in my head come to life again. It feels great.
You're a veteran creator of digital art, and have certainly been an inspiration for legion artists. How did you get your start as an illustrator?
Like I mentioned I started very early, I've been drawing and illustrating all my life. You give me paint I can paint, give me charcoal, ink, clay - I'll create. I am an artist and always will be - it's who I am. There are times I wish I could get myself to do these traditional medias more often, I really do miss themâ'¦ maybe that's a goal I can set myself for next year. Really my abstract work is a minuscule portion of the artwork I've created over the years, but through abstract work, I can express feelings very thoroughly; feelings don't have a shape or sound or color and that's why music and art can define these so conveniently.
As for how I got into digital media, it just seemed a logical progression for me. I loved computers, I loved art - create art on the computer! I originally got into it because I used to fiddle with visual basic, making programs for AOL shenanigans. A lot of the programs that came about had these (at the time) great looking splash screens - I really wanted to create these. Around this time is when my alias cugar came about; I don't know why but it called to me. I have a slight obsession with animals and the animal spirit. I had this vision in my head of a very powerful mythical catlike creature. Anyway a little bit later I fell onto this abstract artists work, his name was Mike, his alias was ink, he ran the site inkdesign.com. His work really set me off into exploring this abstract digital art, and I started by trying to mimic a lot of this work. I bugged him a lot...he wasn't very nice to me but I was eager to learn; we later became friends and he apologized for how he used to talk to me haha! In those days, Bryce 3d was very popular and was my primary tool along with Photoshop. I then got into Studio Max and the power of Studio Max really let me blossom even more, this is also when abstract digital work really hit its peak and full blossom. I still primarily use Studio Max and Photoshop; I have in the past used other programs to assist with certain aspects such as skies or landscapes, and I would like to dabble in other programs, see if it sparks anything, but I just don't have the will to learn a new program at the moment.
Your work is heavily abstract in nature, yet immediately identifiable as yours from even a single glance. Do you have a regular creative process that you follow when composing a piece? Your titling schematic is similarly idiosyncratic; what's behind your elegant, semi-Latin names?
I usually just let the tunes play and zone out in Studio Max or Photoshop and try to just let something evolve. I use 3d as a skeleton and I usually then take it into Photoshop and create a mood. Photoshop is probably 80% of what my pieces are composed of the 3d creations are manipulated and fleshed out in Photoshop. Sometimes I have a predetermined fate for a piece; sometimes that's followed through, and sometimes it takes a turn to a totally new place I didn't intend. I usually work on pieces off and on for months, sometimes I'll open it up add 1 or 2 minor details and then I'm done for the day with it. Then sometimes an idea will just hit me like a train and I'll work on the piece for hours trying to achieve what just hit my head and sometimes even that fails. A lot of my pieces go through transformations, yet some don't. In a way there's a process to how I work, but it's like a controlled chaos, hard to explain. Sometimes I start in Photoshop sometimes I start in Studio Max. Sometimes throughout the creating process my mindset or feelings change and the pieces conforms to those feelings. Not saying I don't create pieces to simply look good, that's definitely part of it, colors, composition and all that is a big part of how things turn out, but I definitely put a lot of myself into my work.
As for my naming convention, I primarily name my pieces in Latin for a couple reasons; one is I think everything at its birth is very abstract, Latin is the birthplace for many languages, it is the root of many languages around the world and I find that very interesting and almost comforting that among the differences there's always a connection. This takes me to the 2nd reason; I'd like people to feel my work, I don't want an idea to be immediately defined by a name, I'd like to think people see my work and understand it or take their own view on what it means for them, what it evokes in them. I hope they can connect to me, or that I'm maybe connecting to them; everyone has feelings, experiences and memories, and that's my fuel.
What facets of life figure most prominently as inspirations for your work? Do you make a conscious effort to restrict yourself is certain stylistic guidelines whilst still attempting to keep your work relevant and up to date?
Life. Period. Life is my inspiration, experiences, memories, feelings. My journal is my artwork - when I look back on my work its a timeline of my life. I can read the pieces as if they were writing, at the time I may not know why I've created this or that or why certain things have certain moods or undertones, colors or themes, but when I reflect I know exactly what was going on...its kind of a trip, its a trip into my subconscious.
I don't really restrict myself, but I guess I have defined a style for myself, it's the same with my hand drawn illustrations and traditional work, you can tell it's my work. It's always been this way and I guess it's just the way it is, I put myself into everything I do. I think most people do, just some have more definable signatures. A lot of my traditional teachings come through in my abstract work so does a lot of my own illustration styles, like defining outlines, line thicknesses to make aspects draw the eye. My interest in photography has played a part too, I love photography, though I don't practice the medium as much as I would like. I definitely peruse and obsess on photography pieces a lot and I sometimes like to think my work is considered more of a photo or painting of a still life.
What do you do with yourself when you're not making art? Any other side projects you're involved in?
Used to be online gaming, but I've lost a lot of interest in that area. I've found outlet over the past year in skateboarding again; throughout junior high and high school I skateboarded, and once I graduated I continued for about a year then quit suddenly, mainly because of the same reasons I dropped off with creativity. In high school I was all about computers, art and skateboarding, nothing else mattered and I was really happy then, I really needed to revisit my passions and be happy again. So I did, I started skateboarding again and it is/was a really nice outlet for me; it gave me goals daily/weekly/monthly and its slightly competitive in nature and gives you opportunity to make things look good. It hits all my interest points, it got me back in shape big time - I've lost over 80 pounds over the past 2 years and am a lot better at skating then I ever was at the ripe age of 17, which makes me feel great. I've also taken up an interest lately in fixed gear bikes, another outlet for creativity and getting outside to do shit and go fast - lets face it I'm 25 now, riding around on a bike might be a better option then jumping down shit on a little wooden board.
Secretly though I can't wait for Diablo 3 or Starcraft 2, Blizzard always makes amazing games, and although I don't think I'll ever get into another MMO again, I loved Diablo 2, 3 looks right up my ally and I'd like to play an RTS again. I loved the competitive nature of Warcraft 3; I never played the original Starcraft much. It's also safe to say I won't get sucked into these like I did with World of Warcraft. I'm also waiting for Quake Live to go live, having an FPS to get into again would be really nice, winters coming up.
No side projects, if any project needs to be worked on it would need to be my poorly neglected website!
Do you feel digital abstract art has evolved much over the last few years? If so, how? Where do you see it heading in the future?
It's evolved a bit, you see trends and certain things come and go. It's evolved into video and animation pretty nicely, I knew that was coming back in the day; it just took some time for people to take it to that level. I don't think the medium will die, a lot of abstract trends have flowed into the mainstream and things keep being innovated on and taking on new shapes. I'd like to think animation and video isn't the last step, I think there will be more opportunities to express these visions in our head in the future, personally I cant wait to see what's next for us to unleash on.
What are your long term artistic plans? I know at present you are working as a designer in a local studio - what's next for you? Is there any reason you haven't attempted to pursue a more commercial avenue for your art in the light of so many of your contemporaries doing just that?
Long term, is really just keep creating, keep showing people what they've never seen before, keep expressing myself. I'm an artist and I need to keep creating to feel balanced, I need to keep learning and developing. Next... I'm not too worried about next, I just want to be happy and I'm happy now, things may change and I could be happier, you never know, but I'm comfortable where I'm at right now.
"Is there any reason you haven't attempted to pursue a more commercial avenue for your art in the light of so many of your contemporaries doing just that?" This is a hard question for me, because I don't really know, I guess I just see what I do as separate, I do it for me, I don't see myself translating well into certain avenues, where would I pursue a more commercial avenue for my art? I guess I could provide pretty good art/visual direction, but that just hasn't been something I have explored, maybe that's something for the future, maybe that wasn't meant to be right now.
I'm happy where I'm at, I work for very big brand name household companies, they're not Sony or Nike or what have you, where you can do these outlandish new and exciting ideas, but I enjoy it because I still do get to come up with new and outlandish ideas for companies that usually don't. I'd like to work for gaming, sports, technology based companies at some point where I can have a bit more freedom and fun, I think I'd do well and I'd enjoy it. It may be in my future, I'd like to live the rest of my life on one of the coasts working for great companies, but I'll make the best of it no matter where I am. Having lots of money, working here or there and having certain items doesn't appeal to me at all, cause I just don't care; I just want to be comfortable.
Where do you plan to take your personal work? Are there any areas (either conceptual or technical) that you are especially keen to explore?
I'd like to take what I do digitally to a traditional media a bit or at least explore that idea, I think it'd open some doors for me. I've dabbled in animation and video, I have a lot of fun with it, but I don't see myself catering to the media solely. Still images just seem to be the best outlet for my expression, it's where I started and it's probably where I'll end.
You've been in dC a long time now; what has being a part of the collective meant to you? What was your favorite pack? Favorite artwork ever submitted? Who's skills would you most like to steal?
Yea I have, sheesh. It's meant more to me then I tend to let on. I've really enjoyed the work that's gone on over the years, even though I wasn't able to submit to every pack, or be as active in submissions as many, I really like being apart of this collective and I believe Depthcore is the best of the best. You wont find me anywhere else, hopefully I'll be able to keep contributing. Even in my abyss of no work over the years I lurked in the background and I really liked a lot of the work going on and was sad I wasn't able to contribute, of course a couple times I was just being stubborn.
Really, favorite pack has to be this one; an all black and white pack was genius. I think it really set some people free, me included. I've always wanted to do a black and white piece but I had such a hard time dropping color; I love color, I needed a reason to lose color even if it was just for a bit and this was it, this gave me a reason to explore it and I really enjoyed it. I'm a big fan of the beauty and the beast type ideal, good and bad, black and white - you can tell in my work, so this called to me definitely.
I'd like to steal everyone's skills, there have been some amazingly great pieces over the years from so many members, the talent here is top notch. Not only has the work here inspired me on more than one occasion but I know its inspired many others as well and that's unexplainable.
Thanks for your time Jon, any final words?
I'd like to thank everyone of you guys, Depthcore has evolved and will keep evolving into something bigger and better as time passes. All the work put into this collective is absolutely amazing, and I'm honored to be a part. I'd like to thank anyone who's followed my work over the years too; it means more to me then I can tell you.

Back to Top \ Back to Interview List \ View Chapter XXXV: Noir Submissions \ Submissions by Jonathan Foerster