Kervin Brisseaux
Interview
Chapter XXXIII: Requiem

Posted by
Justin Maller
\

@justinmaller

justinmaller.com
— on April 30, 2008

NYC
/ United States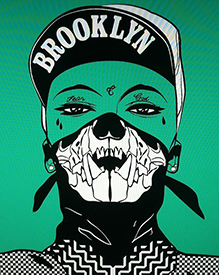 Ladies and gentlemen, say hello to the featured artist for 'Requiem', Kervin Brisseaux. Give us a bit of info on yourself Kerv.
Sup everyone? My name is Kervin Brisseaux and I'm a 22-year-old Architecture student currently stationed in upstate NY. I've lived in the tri-state area of southern NY all my life; the city was literally my backyard. I've had an interest in the arts and design for about as long as I can remember. I'm an avid futbol fan, play lots of FIFA, and I enjoy classic Luc Besson films. When I'm not designing, I spend the rest of my time procrastinating, catching up on sleep or maybe playing an occasional round of Street Fighter. Oh yea, and apparently I can dance to 'Thriller' pretty well
What are your thoughts on the creative atmosphere that surrounds you, as a nearby resident of NYC ' is your environment and local culture reflected in your work?
Sometimes it does, and sometimes it doesn't. I think that depends on the concept and theme that my work is currently concentrated on. The environment and culture in which I'm situated in, wherever and whatever that may be, influences me in much more minimal way than one would probably think. A simple pattern on the wall or an article of clothing could be just the thing I need to spark some kind of initial idea or add a little something to my work that I would have otherwise never have come up with. And when something like that happens, it's typically really random and unexpected.
Does your architectural education play a significant part in your creative process?
Well, I've been studying architecture for about 5 years now. Starting out at Catholic University in DC and now getting my Masters at Syracuse University. Architecture's role in my creative process has only recently begun to influence my work. My architectural education has introduced me to a wide arrange of programs and a particular thought process that has helped expand my entire design agenda. But just as architecture has started to influence the way in which I produce work, graphic illustration and design has also helped in strategizing ways in which I would approach my architectural design problems, from developing a structural form to the layout of a presentation on the wall. For example, me and 5 other architecture students are working on an exhibit for an architect. A full-scale module structure will be installed in our school and I've been taken on for graphic diagrams and a CD design. Because architecture and graphics are, at least to me, very similar within this spectrum of art and design, as my style continues to develop I find it tough to separate the two on either an aesthetic or conceptual platform. I'm currently developing a style that will blend my hand-made model building and my graphic abilities. I have yet to release any examples of this style as of yet. I'm still trying to figure out how to get this mix to work fluidly. It's definitely starting to become a real science experiment for me and it should be fun to see how the results turn out!
I know you're a fan of NYC hip-hop; what sort of relationship does the local art and music community have? Is there a direct connection, or more of a mutual reflection?
That again depends on what I am actually going for in my pieces. There has often been a time where I've seen an art piece on the wall or some random design in magazine that has influenced me just like anyone else that's into this sort of thing. There have even been times where I've attempted direct interpretations of a certain piece that was I inspired by which has helped me in figuring how artists have done certain things on my own rather than hunting them down and asking a bunch of repetitive questions. Music on the other hand is a whole another issue. I would say that almost 99% of the time, every move, every click of the mouse, every decision I make on the screen is highly dependant on what's going through my headphones at the moment. As opposed to visual influences, music has a much more direct connection to my work, and that's why I feel it's incredibly important for me as an artist to be constantly expanding my musical taste. The more I do so, the more I feel I can explore various other themes and concepts. Hip-Hop was what I was first into, and I still am, but now my tastes haven expand into the jazz, progressive, house, electronic, and some rock genres.
What inspires you as a creative?
We'd be here all night if I told you everything. The core basics would obviously be music and design, but also other artists, family, friends, and whatever is coming out of Japan. We can chat some other time if you want the full list.
Are your inspirations directly represented in your artwork, or do they simply manifest themselves as a creative mood?
With the exception of some of my more industrial illustrations, I would say it's more of a creative mood. Sometimes if I'm on that classic artist block, it helps to just do some random freestyle to get the creative juices flowing. That's all it usually takes to get things rolling again for me.
A lot of your work seems to reference mythology; are their any cultures, philosophies or pantheons that especially interest you?
You know what? It's funny you say that 'cause that is something I've never really noticed until now. I guess you can say that this sort of innate influence from mythology comes from my long days and late nights playing those addicting RPGs during my elementary and high school days. I'm into anything that evokes imaginary realities and adventures.
You've been a member of dC for several years now, give us some insight into the journey you've been on as a member of our collective. Are there any moments or releases in particular that stand out in your mind?
Where do I even start? I'll try to keep this short... It was one of Patrick Ahmann's (secroit) pieces, Stratovarious_Symphony, which first exposed me to the depthcore scene when he submitted it on Deviant Art. I never did bother to checkout the site though until you guys released Freestyle a few years back. I was seriously in awe with the level of craft and execution that went into each sub. When I got my approval to join dC from you, needless to say, I was stoked. Having my first release with you guys, Vivid, was probably one the most fun times I've had ever since I started doing graphics. Perhaps the most memorable moment for me was when Temple was getting ready to be released and things just blew up in the submissions section with piece after piece of jaw dropping submissions. It was pretty exciting and inspirational.
Where do you see your personal style of artwork heading in the future?
I have a lot of hopes as to what my art can turn into and how I could go about it but in all honestly I'm not sure where my style is going, and that's probably the most exciting part about it.
Is there anything in particular you feel drawn towards?
My mom's cooking.
Hahaha, me too! Who would you most like to collaborate with?
Well, besides having a few collabs in the works with the likes of guys like you and Nelson, there many artists within this collective alone that I would love to work with. I think working with some of the veterans like Jeff Huang or Ikaruga would be a great learning experience for me as an artist. Both have very eclectic styles, and it would be interesting to see how the mix would work out. Even working with some of the rookies like Max Spencer or Ari Weinkle would be really cool. The amount of potential within these guys is pretty massive, in my opinion, and it'd be great to see how some of the newcomers this year will blossom into established artists within our ranks.
With your evident skill and training in both visual art and architecture, what directions are you headed in career wise? What's the long term plan?
I've always talked about hoping to one day run a firm that blurred both architecture and graphic design as a practice. Maybe that'll come true. As of right now though, I'd love to intern at a graphic design firm just too see how different or similar both architecture and graphic studios are run.
Thanks for taking the time to chat mate, congratulations on being our featured artist!
Thanks Jus. It's been a pleasure as always. Thanks everyone for all the support and I'll catch you guys later.

Back to Top \ Back to Interview List \ View Chapter XXXIII: Requiem Submissions \ Submissions by Kervin Brisseaux