Rik Oostenbroek
Interview
Chapter XXXIX: Eve

Posted by
Justin Maller
\

@justinmaller

justinmaller.com
— on February 14, 2010





Hilversum
/ Netherlands

secretshowcase.com
Congratulations Rik! I think it feels as good for me as it does for you to see you featured. Tell us a bit about your Depthcore journey; how have you changed since joining? How has DC changed?
Thanks a lot Justin and all the other people who helped me get this far with my creations, this has always been a dream for me.
Well my Depthcore journey actually started at the start of my Photoshop journey. I think the first time I got in touch with Depthcore was at a friends place who showed me the Human chapter. Since seeing those crazy Photoshop and 3d creations I was sure that I wanted to be make work like that as well. I started up Photoshop for the first time and promised myself that I would be a Depthcore artist one day. I tried to get in every now and then back in the days, must have bothered you guys a lot, haha! I must admit that the day I was approved by the members of Depthcore was a special day for me, I was following in the footsteps of some great artists who had inspired me since the beginning.
There it was, a big step up for me. Contributing to chapters with guys who were like gods for me a year before; I must admit that it was quite hard for me to get used to the fact that Depthcore was more serious than all the other groups and communities I've been in. I was used to creating things for fun, no concepts and actually quite devoid of emotion. I was 16 back then so I wasn't that serious at all. With help from people I admired, and with all the useful criticism they gave me I felt myself growing every day. I was living on cloud 9 and planned to tattoo the Depthcore logo on my shoulder one day (lucky me that I didn't do that since the logo changed ;).

Depthcore has never changed in my opinion. Artists come and artists go. All the different styles around you start to inspire you as well to try new things.So to make a summary of this story, Depthcore changed everything for me, at least my sight on art and how to watch art in a different perspective. Back then I used to look at colors and composition only, concepts were a no-go for me. Without Depthcore I would still be the eye-candy making disco color machine.
Your work is resplendent with emotion; when viewing it I feel I am gaining a true insight into your world. What aspect of life typically fuels your creativity?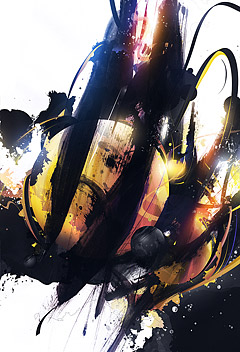 I got back to this question 10 times already, but this is the hardest question ever.It all actually started with being bored, I just started drawing stuff, felt the need to create and change things. Most of my artistic and creative moods right now are based on a flood of inspiration or the need to express myself. Actually it's just like working out or boxing.
People always ask me why I don't play sport anymore, but that's just because I do art. I think art works the same way, it's like your "Uitlaatklep" to the world.Something you can put all your emotion and feelings in, something you could focus on so badly that you stop thinking about anything around you.
I think I keep my mind quite healthy when I create stuff, I always feel good and full of energy when I'm in this certain flow with my music on repeat.Whenever I succeeded in finishing a piece of art or made something nice, I always feel so incredibly good. Just like I've been training for soccer every day and scoring in a very important game.
Your series of work in this Chapter is incredibly strong; do you have a favorite piece? Is there a particular back story from any of them that you would like to share?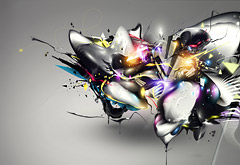 My favorite piece is "Waiting for a better day" for sure, I like my others as well, but this one was very special for me. I've been in a struggle with art and life for quite a while, my confidence was lower then ever and nothing seemed to work out the way I wanted. My entire sight on the world became more negative every day. No future plans, my study didn't worked out, my relationship was in a struggle for a few months as well. The major problems with relationships are the boundaries I got to fit in for that certain person. People expect things of me and they want me to be the way they want me to be. I just need to feel free and have no boundaries for the upcoming years, that's what I've learned in the past months.
I started this piece without any concept and just messed around with some shapes. But when almost finished I realized that I saw a reflection of myself on my screen.It's quite special to see things work out the other way this time.
I know it's a generic question, but please give us some insight in to your creative process; where does it start and end for you? How long do you usually work on a piece for?
I've got two kinds of approaches. The first one are spontaneous ones, build up around a random photo I've found or a random shape I made. The second kind are the pieces I already had in mind before I started.

The pieces based on ideas I had before take way more time then the pure random ones. The idea-based pieces need planning, creating self made textures, do some research and sometimes sketches, what's taking way more time. It's very rare that I think a piece is fully finished, I'm quite a perfectionist and never think it's enough. That's a reason why most of my work is full of shapes and got a huge amount of small detail.
Most idea-based pieces take around 12 hours. The more random ones are taking less than 6 hours.The funny thing is that most of my random work is always made in 2 parts. I usually make shapes into a cool composition and close it. When I find it like 2 months later I get inspired very often and try to finish it.
Walk us through your professional career; you are a fulltime freelancer, how does the lifestyle suit you?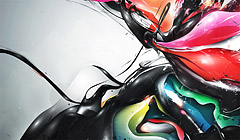 I have to admit that the freelance style of life is hard and fun as well. It's always risky to give it a shot, quit your job or stop your study and go for a freelance career.

Since high-school I've enrolled in many different schools, but none of them seemed to work out.So it was a good opportunity to focus on design things back then, started working at a small agency in Amsterdam and mailed around to some people to represent me.

I've been dealing with some great clients lately, worked for big campaigns and major agencies worldwide, which has been a pleasure for me. I've got most of these jobs thanks to an agent who believed in my stuff on the date I launched my portfolio. It was always a dream of me to see my stuff shine on billboards and been featured in magazines. But in this time we live it could be hard because of the bad economy.
Clients pick their own frequent-used designers lately and companies don't want to take a risk with taking me as 20 year old designer as the one who's visualizing their campaign.I've had 3 workless months from September till December.Filling these days up could be a hell, you just sit in front of your computer, browsing sites, playing games, grab some beers with friends. It could make you feel useless at some point. No sleeping rhythm, no income and so on.
But after all, there should be a better time a-head and I'm still looking out for a great study to expand my skill and horizon. I've learned a lot, like negotiating, doing taxes and also working as an intern in some great Agencies.I always prefer to work behind my own desk, in my own room, with my own music and my own people. The other side is that it could be hard to work and sleep in the same room.
A very very tired question, but one that is relevant nonetheless; what has been inspiring you lately? Any artists, writers, directors been giving you fuel for the fire? Is there anyone who has had a lasting impact on your own creative style?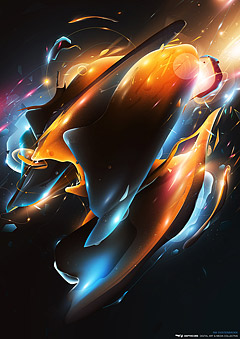 I'm inspired by different things every single day.People like Jim Morrison, movies like Pixar's UP (I'm actually watching that while writing down this interview), lyrics from Underworld, Joshua Davis, Music videos, TV commercials (The Happiness Factory), different Depthcore artists, pictures from Anton Corbijn and many many more things.
The main inspiration sources always been music and emotion. I'm always open for every kind of music and for some reason is a switch in music style always results in a switch of art styles to me. On some days I could listen the Rolling Stones on repeat all day, while the other day 50 Cent fill my room with his rap. I'm quite a emotional person, so everything that happens around me could be a reason to do art and do a certain kind of piece to express myself. When I feel bad, I try to put all the aggression, anger and frustration in something I make. When I feel happy I try to show it to the world by doing a joyful piece to look at. Most of the time my pieces made in a bad mood are more build around a concept, while the more colorful and happiness pieces (the pieces made as eye candy) are always made in a good mood.
I have to admit that David Mascha has been my major inspiration for working with abstract forms since the beginning.
Is this your favorite chapter to date? Which others have been memorable for you? What sort of themes would you like to see us explore in the future?
It actually is, especially when I look to the variety for work and concepts in this pack. Some great debuts of new awesome artists who show me some new styles inspired me to work my ass off for this pack.Besides that, I never expected the feature because of all these great other entries in this Chapter. I think we're the only group of artists who could surprise people every single time.
I always love contrasts, so whenever a theme got to deal with changes, differences or such kind of stuff, I always got pumped to work extra hard on my subs.The memorable ones are probably some packs in the past, who inspired me a lot back then to get a lot better in Photoshop.Looking at the old pieces from guys like Bart, Hejz, Wirestyle, you, Shiny and Magnus always made me want to try harder, to get better and to feel stronger.
My favorite pack from the time I was dreaming of being a Depthcoreartist, is Freestyle 2.
Who do you see as the artists to watch for the next couple of years? Anyone you feel is especially ahead of the curve?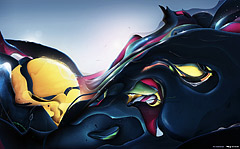 It might sounds strange, but I don't focus really on what other people do. I've learned from the past years. I kept on concentrating on what other people did.Influence isn't bad, but I started trying stuff other people did and forgot about my own passion, my own color usage and my freestyle stuff.Watching to people like Alex Trochut, David (microbot) and Jerico made me feel so small in this world. It made me seriously sad, that I couldn't make things like that.
You start comparing your work with their work, while it's totally inappropriate, they do their stuff and you should respect what you do and what you love to do.It takes a while to get rid of such feelings and find yourself back again, I finally did in the past months.That's the main reason why I don't look around sites like Behance and Deviantart that much anymore, since sometimes they could have a bit to much influence on your look at art. So honestly, I don't know. I hope a few people of Depthcore could step up and become really big artists.
Now that you've checked 'DC Featured Artist' off the list, what's your plan going forth professionally and artistically? Where do you see your style evolving to? Where do you see your career taking you?
That's always a hard question, I thought about it so often but I don't really know where this is going. I would love to see myself running my own agency one day, having a little group of people to work with and serving respectable clients
The thing I'm afraid of is that the "making-art" side might get boring when I'm 30. I hope to find a study and study some advertising study once, to be able to handle the other side of making advertising as well. But I guess every artist like me is having the same dream.
My main goal in the upcoming year is to separate my personal work from the client stuff I do. I would love to experiment further with my more artistic side and keep expanding my client list with more commercial and less experimental work.I really hope that the agencies and big companies would see my abstract kind of style as a nice and fresh way of presenting their projects or products.
The most important thing is that I keep on enjoying and loving what I do.

Back to Top \ Back to Interview List \ View Chapter XXXIX: Eve Submissions \ Submissions by Rik Oostenbroek