J Braam
Interview
Chapter XI: Submergence

Posted by
J Braam
\

www.avensys.org
— on April 10, 2004

Amsterdam
/ Netherlands

www.avensys.org
Hello, most people know me as Darulian here. Well, my real name is Jort Alexander Braam. I'm a 18 year old multimedia-student.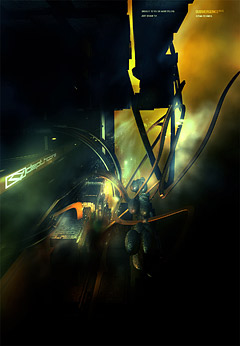 I have a great passion for multimedia, but I also like to drink some beers and chill with my friends. And in second place...Medal of honor. Since I've got a decent internetconnection I spend many of my free time on it. I have, with a couple of friends, my own clan, called [AmK], for the Dutchies : "Alles moet Kapot!"
Well, back to design....
Design is a very important thing in my life, I'm interested in all kinds of media. I'm design since my first contact with computers. I started messing arround with Photoshop and other graphic tools two years ago.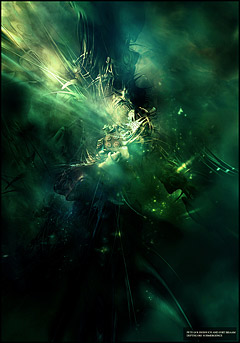 At the time I was capable of making something decent I met the world of digital abstract art. I was fascinated how powerfull and interesting an abstract piece could be. Since that time I spend many hours on experimenting with composition and lights in Photoshop.
After creating some photoshop-only abstracts I started to explore the world of 3d. Since my first contact with 3d I'm using Maxon Cinema 4D. It has all the things I need. It's basic, and really functional. I'm not good at all with 3d but because I know photoshop quite well I can realise my ideas and concepts. I gain inspiration from videoclips / television. Videoclips are diverse and dynamic. Its awsome how visual works together with music and what it can to do the overall feeling/expression.
Most important issue of my work is composition and balance. Those elements are really necessary to make something look good in my opinion. Most of the time I see people writing down things like "I really like the brushing, but the render is bad".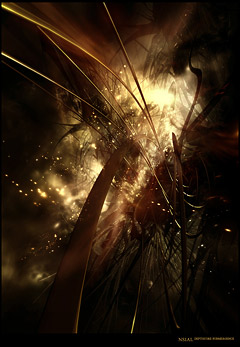 I dont see it that way. All the elements can be good and nice but its about how it works together. Simplicity can work really strong when its executed well. When I place lights, also the enviroment is affected by it. Offcourse we're talking about abstract art so there aren't certain rules but it's just important for me.
Nowdays I realise that I can't keep on doing the same style and things all the time. I keep on trying new things and styles to gain experience in all kinds of design. Soon I will release my experimental images and works on avensys.org. Also I'm aiming myself on motion. The world of movement needs a complete different approach so it's a really nice new outpost.
I want to thank Depthcore for featuring me and all the support. Thanks.

Back to Top \ Back to Interview List \ View Chapter XI: Submergence Submissions \ Submissions by J Braam